Universal Control Not Working on Mac & iPad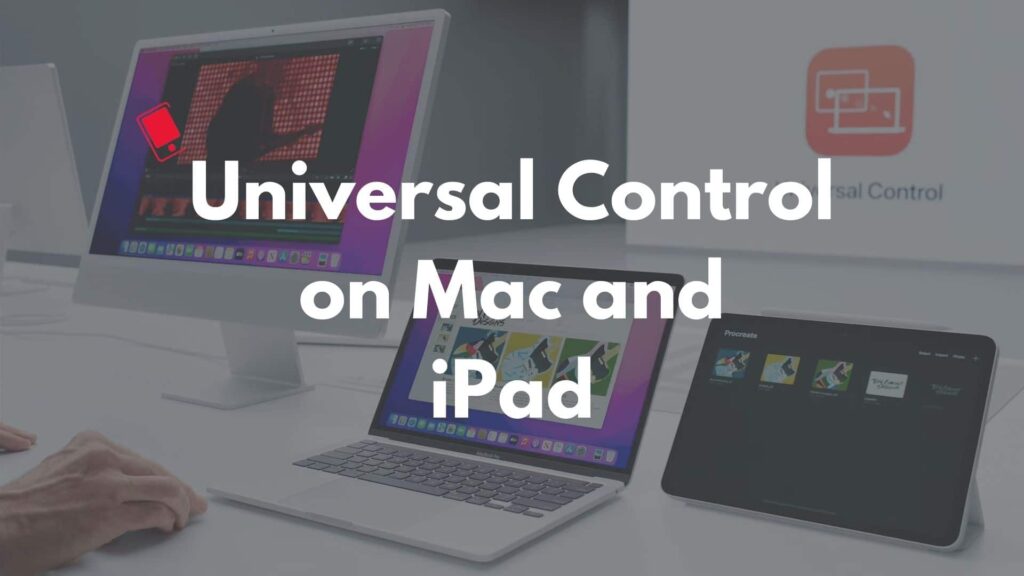 If you want to control your main Mac's trackpad and keyboard for additional Macs or iPads nearby but it's not working. Maybe the first time you are using it, or it was working earlier but suddenly stop either after any OS update. if you are anyone of them, this article is for you.
Here, we have listed all the possible solutions in one place, so you don't need to waste your time by visiting the other pages. we can assure you if you carefully follow our step-by-step guide, you will get your solution in just a few minutes. So, what are you waiting for?
Hi, I am SRK the technical expert for your solution have more than 10 years of experience in telecommunications & IT
We have found that on June 24, the Universal Control feature is officially announced to be out of beta by the launching of macOS Monterey 12.4. However, mostly it didn't resolve all the problems. On the other hand, users who have been using Universal Control without any problem in macOS 12.3 may find Universal Control not working after updating to macOS Monterey 12.4.
Check Hardware & Software Compatibility
Initially, you must ensure that you are using any of the below compatible Hardware and software.
Specifically, on the software side, Universal Control requires at least iPad OS 15.4 on an iPad and macOS Monterey 12.3 on a Mac. It is compatible with the following hardware devices:
Check whether your devices fall into one of the categories below:
MacBook (2016 and later)
MacBook Pro (2016 and later)
MacBook Air (2018 and later)
iMac (2017 and later)
iMac (5K Retina 27-inch, Late 2015)
iMac Pro, Mac mini (2018 and later)
Mac Pro (2019)
All iPad Pro models
iPad (6th generation and later)
iPad Air (3rd generation and later)
iPad mini (5th generation and later)
In addition, you are required to run macOS Monterey 12.3 or later and iPadOS 15.4 or later to use Universal Control. Keep in mind that it's best to pair macOS 12.3 with iPadOS 15.4, and macOS 12.4 and iPadOS 15.5.
Be noted that If Universal Control not working after updating to the latest macOS (macOS 12.4 by now), you should update your iPad to the newest available OS, then retry Universal Control.
Are All Devices Signed into Your iCloud Account
Please make sure that all the devices that are connected to universal control must have the unique iCloud ID and must have signed into iCloud while using universal control. if you logged in with various accounts then universal control will not work.
You can make sure that your Mac is signed into iCloud by
going to System Preferences
Apple ID. On iPad,
open Settings
and tap the Apple ID banner at the top of the main menu.
Make Sure to Enable Handoff
Universal control required Handoff to be enabled on all devices. To enable the handoff, you need to go
System Preferences
General
and make sure the box is checked at the bottom, next to Allow Handoff between this Mac and your iCloud devices.
On iPad,
open Settings
AirPlay & Handoff
and toggle on the switch next to Handoff.
On the same screen, check that the switch is also in the green position next to Cursor and Keyboard (Beta)
Check the Bluetooth and Wi-Fi connection are Turned ON
The universal control uses Bluetooth and Wi-Fi connection to communicate with each other therefore make sure both (Wi-Fi & Bluetooth) should be enabled on all devices and connected with the same Wi-Fi connection.
How much is the distance across the devices
The maximum distance should not be more than 30 feet or 10 meters to avoid any hindrance in communication.
Disable Hotspot via cellular connection sharing
It is highly recommended not to use Hotspot while connecting universal control and ensure that other devices are not connected to your Mac Hotspot
On Mac,
go to System Preferences
Sharing
Disable Internet Sharing.
On iPad,
go to Settings
Cellular
Personal Hotspot
Disable "Allow Others to join."
Turn off the Sidecar
Sidecar is used to mirror the mac display on iPad, normally Sidecar and universal control can work together but most of the users have reported that when they disable the Sidecar, universal control starts working. Therefore, we advise disabling the Sidecar if you had a connecting issue with universal control.
Use at least one Mac
Universal Control can be used with two or more Macs and without ‌iPad but at least one Mac is mandatory to use it with iPads‌.
In other words, two iPads without a Mac cannot take advantage of Universal Control, but if at least one Mac is available in the devices, you can use the feature with multiple iPads.
Conclusion
In my opinion, I have given almost all possible solutions that can be caused to your subject problem. Please share your feedback with us. Your comments are more valuable for us.
You may follow below links if you are willing to explore more topics
Read more: