How to Block Unknown Calls on iPhone?
Are you being bothered by unwanted calls or do you want to know how to block the unknown calls on your iPhone? if yes then this article is for you.
Here we have a perfect solution for you.
Mostly, a lot of iPhone users are interested in the Call Blocking feature on iPhone to block the telemarketers, spam callers and other unwanted Calls.
Therefore iPhone not only provides the option to how to block individual Callers but also provides Global tools like Silence Unknown Callers to block all unknown Callers.
Here are a few different methods to explain you how to block unknown calls on iPhones. Please follow the below options of your choice and see which one is the best fit for you.
Hi, I am SRK the technical expert for your solution have more than 10 years of experience in Telecommunication & IT.
Lets Start;
Solution # 1. Block Calls via Silence Unknown Callers Option on iPhone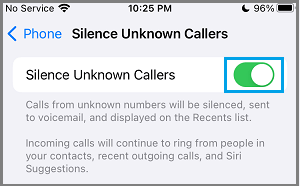 I tell you earlier the Silence App on iPhone is designed with an integrated "Silence Unknown Callers" feature, which is available to Block all Unknown Callers.
Go to Settings
Then, Phone
Tap on Silence Unknown Callers
Next screen, move the toggle next to Silence Unknown Callers to ON position.
The one drawback of enabling this feature is that it can end up blocking genuine callers if they are not listed in your Contacts List.
Solution # 2. Block Calls on iPhone Using the iPhone App
If you want to Block Calls for someone who is known to you and showing in your Contacts List, you can Block Calls from this person by going to the Contacts tab in the iPhone App.
Open the App on your iPhone and tap on the Contacts listed in the bottom menu.
On the Contacts screen, select the Name or Number of the Contact that you want to block. On the next screen, scroll down and tap to Block this Caller.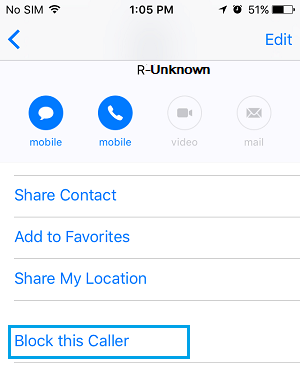 On the confirmation pop-up, tap on Block Contact to confirm.
Cheers! Now, this specific caller would not be able to bother you again.
But whenever you want him back, you can unblock this Caller by
Tap to Phone App
Then Contacts
Tap Contact Name
Scroll down and tap on Unblock this caller
Solution # 3. Block Unknown Callers on iPhone
What happened when an unknown caller or a telemarketer is bothering you by calling again and again and you want immediately to stop the unwanted calls? Be Cool, now you can block these callers by
going to Recent Calls on your iPhone.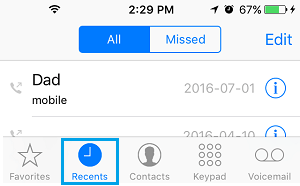 Open the Phone App and tap on the Recent tab located in the bottom menu.
On the Recent Calls screen, tap on the "i" icon located next to the Unknown call.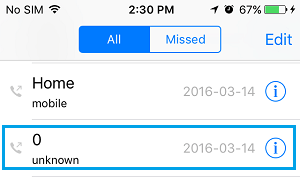 Scroll down and tap on Block this Caller.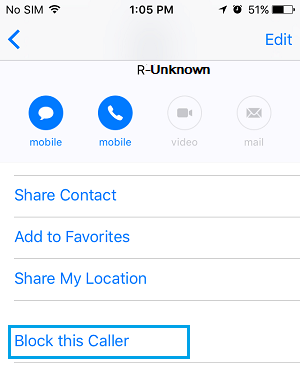 Now, this Specific caller will be added to the block list on your iPhone.
Solution # 4. Block Anonymous Private Number Calls on iPhone
Oops! Some Telemarketers and Spam callers may hide their caller ID, in that case, the Phone Number of the Caller will be showing as a Private Number on your iPhone.
Unfortunately, the Call blocking feature on iPhone gets easily bypassed, if anyone calls your device using Hidden Caller ID or uses some other way to hide his/her Phone number. So what would be the solution?
Don't worry we are here for you. The only way to block Private Phone Numbers on iPhone is to put your device in DND mode (Do Not Disturb Mode) and allow only Calls from your Contacts during DND Mode.
Go to Settings
Focus
Do Not Disturb
Move Do Not Disturb toggle to ON Position
and tap on People tab.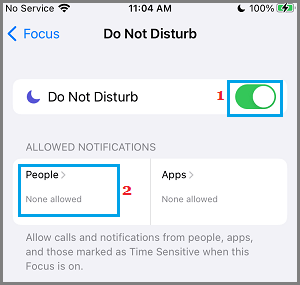 On the next screen, tap on Calls From and select All Contacts option
After that, your iPhone will only allow Calls from people who are listed on your Contact List, all other Calls from Unknown or Private Number callers will be blocked.
Another good feature of this configuration is that genuine Callers who are trying to reach you would be able to leave a voicemail message for you and you will also get missed Call Notifications.
Conclusion
I hope you feel comfortable while finding the solution and enjoy the learning. we have done a lot of research before giving you the solution. if you like the way we are doing please write us on the contact us page. your comments and suggestion are always welcome.
You may follow below links if you are willing to explore more topics.
Read more: